Epoxy flooring is one of the toughest and most durable finishes that can be applied to a garage floor. It can transform your garage from a dusty and dark space into an easy to clean and bright room that you will enjoy spending time in.
Since a garage is more than just a place to park your car nowadays, why not turn it into a space that becomes an extension of your home? Did you know that we offer close to 100 different flake and color options that you can select from that matches your style or even your favorite sports team?
Should I Epoxy my Garage Floor?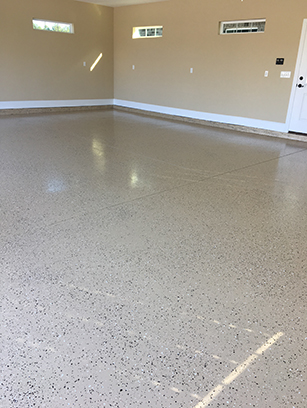 Almost on a daily basis I am asked "Should I epoxy my garage floor?" My answer is always "Yes!" Epoxy floor coverings not only improve your space, but they cover defects and cracks in your slab and gives your area a shiny new look.
Epoxy is one of the best garage floor coatings available on the market. When it hardens it is moisture and stain resistant. So if something is spilled on your floor you can just mop it up with no worries!
Why should you put an epoxy coating on your garage floor? Well, first for the beauty, second for the durability (it can last up to 10 years) and third it adds value to your home.